*Please note all promotional prices are final sale
Body FX Body Contouring | Laser Hair Removal | IPL Facial | Votiva
InMode's technological advancements began over two decades ago with state-of-the-art light, laser, and radiofrequency devices invented by leaders and scientists, who essentially launched and shaped the industry. Their technology continues that legacy to provide superior satisfaction for both the patient and the practice. InMode has revolutionary non-invasive options for fractional skin resurfacing and contraction (Fractora), ultra-fast diode hair removal (Diolaze), IPL photofacial for skin pigmentation and vascular lesions (Lumecca), cellulite reduction/body contouring (BodyFX/MiniFX), and safe and effective treatment for feminine health (Votiva).
OxyGeneo™ Facials & Skin Tightening
OxyGeneo™ is an innovative skin renewal treatment that delivers 3 essential treatments simultaneously as it exfoliates the outer layer of the skin, infuses it with revitalizing nutrients and stimulates its oxygenation. Get the exfoliation benefits of microdermabrasion plus deep facial rejuvenation. OxyGeneo™ treatments are suitable for all skin types – any ethnicity and pigmentation, sensitive skin, and even for those who keloid (scar) and couldn't otherwise have abrasion treatments.
A single platform can now deliver skin nourishment and skin tightening, while also reducing the appearance of wrinkles. The platform uses Radio Frequency for TriPollar skin tightening, firming and rejuvenation.
Hyaluronic acid (HA) is a naturally occurring sugar found in the body and facilitates the skin's ability to retain water and stay moisturized. The absorption of water creates volume and elasticity in the skin. As aging occurs the body's ability to produce (HA) is reduced. This, combined with external elements such as sun exposure, diet, and stress cause the skin to lose volume, sag and develop lines and wrinkles.
Filler products are used to temporarily add volume or fill in wrinkles and folds by injecting HA gel into the skin. The absorbable gel integrates naturally into the tissue and over time is broken down by the body.
BOTOX COSMETIC has been approved for cosmetic use in Canada since 2001. When injected into tiny facial muscles, it softens wrinkles by temporarily preventing the muscles from contracting. This process is called cosmetic denervation. Without the repeated muscle contractions, the overlying skin is able to gradually smooth out.
Dysport Aesthetic is an injection used temporarily improve the appearance of you moderate to severe frown lines. The untreated facial muscles still work normally, allowing you to freely show natural facial expressions, such as smiling, in untreated areas.
Dysport Aesthetic temporarily reduces the movement of certain upper facial muscles that cause wrinkles. The optimum dosage and number of injection sites in the treated muscle will be chosen by your nurse. Treatment with Dysport Aesthetic generally takes 10-20 mins with noticable, natural-looking results as soon as 24 hours that may last up to 4 months.
PRP (Platelet-Rich Plasma)
Is a skin rejuvenating system designed to help restore your natural beauty. Pura Plas aids in the body's natural repair process and contains Growth Factors known to boost tissue regeneration and stimulate collagen production, leaving skin feeling smoother, softer and hydrated. The PuraPlas system is optimized to assist these Growth Factors in treating the classic signs of aging, photo-damage, acne scars, thinning hair and more!
Collagen Induction Therapy microneedling is perhaps the most successful treatment in combating the common concern of aging skin. It triggers the body's spontaneous healing process, stimulating cell proliferation and causing the causing the formation of new collagen.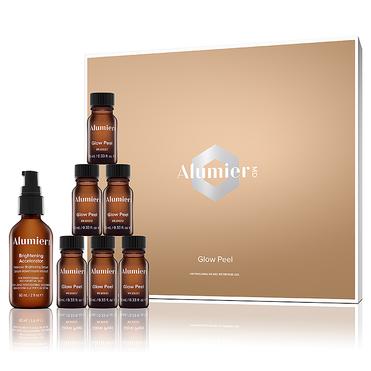 The AlumierMD Peel Treatments are the ultimate in customized peel experiences to help your specific skin concerns. The variety of treatments have a unique complex of ingredients that decrease the visible signs of aging including fine lines, wrinkles and hyperpigmentation, like age spots, discoloration and uneven skin tone. AlumierMD Peels also target acne by unclogging pores and calming irritation and redness.
This unique experience includes an exfoliating peel treatment and brightening enhancers, followed by targeted treatment serums, which will reveal more radiant, soft and luminous skin.
Enzyme Retexturing Treatment is a highly effective fruit enzyme resurfacing solution. The unique blend of fruit enzymes exfoliates dead skin cells and promotes skin renewal. This unique experience also includes brightening enhancers, followed by targeted treatment serums to address each skin concern. The result is a reduction in the appearance of fine lines, wrinkles and hyperpigmentation, while soothing and maintaining hydration.
The treatment combines relaxation with high performing active ingredients to address your skin concerns. Get ready to relax and let go as you receive the ultimate in customization and relaxation. Including a facial massage, lymphatic drainage and pressure point massage that will help release toxins in the skin and soothe pain while relaxing the body and mind. Your highly trained AlumierMD skin care professional will customize your treatment, which will leave you looking radiant and feeling refreshed and balanced
Latisse is a prescription eyelash product approved in Canada to grow you natural eyelashes fuller, longer and darker. Visible results happen as early as eight weeks, with full effect in 12-16 weeks.
Unlike over-the0counter eyelash products that condition and moisturize lashes, or mascara products that make you lashes look longer than they are, Latisse has been clinically proven to actually grow noticeably fuller, longer and darker lashes.
Massage Therapy
Massage therapy can be used for the treatment of both acute and chronic conditions. RMTs can work with a wide variety of patients, of all ages, in the treatment of illness, injury rehabilitation and disability.
Our RMT uses her knowledge of physiology and anatomy to combine traditional Swedish and modern massage therapy techniques with other therapies to treat their clients. There has been a wide variety of research, published in peer reviewed journals, proving the benefits of massage therapy for various conditions.
Massage Therapy can also be used as part of a preventative care program. This includes sports training, injury prevention, ongoing stress management, and more! Together, you and your therapist will develop a treatment plan based on your needs. The treatment plan can be changed at any time and you have no obligation to undergo any part of treatment. Your treatment begins after you've given your informed consent.